I know we seem to be going slow (We are

), but I thought I'd show something I've been working on lately..... Ground Branch will use the concept of a 'Team Room' as a place to start the game from. It is here where you will customize your gear, set up missions, receive and go over intel as well as hang out with teammates before, during and after MP and co-op missions. There will also be oppurtunities to customize your Team Room as well.
One part of your Team Room is the Operations Room that is shown here. This is where the Intel/Mission magic happens and every one of these monitors/screens will be interactive for various purposes. This is a clean unaltered screen grab from the editor and I'm sure you can get an idea of what some things do just by looking around.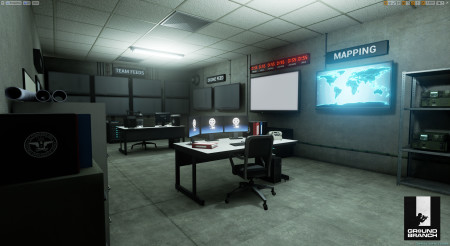 We are using an HTML/Javascript based UI system for the interactive screens so there are some really unique possibilities we are exploring.
We know the pace is slow... much slower than we would like, but we are still here and still committed to Ground Branch!
-John
Read this story on GroundBranch.com